Leilainia BIO
Leilainia is a  full-time Performer and Wellness guide.  "I have dedicated my life to the art of movement, health and expression. I am dedicated to being a thriving artist. My mission is to bring the art of celebration and imagination into the foreground and give people tools to allow the joy within to lead them. " 
Leilainia is a certified Chopra Health, Hatha Yoga, Kundalini, Prenatal Yoga, and KundaDance Instructor, as well as an award-winning Belly Dancer.

"I was born with the rhythm of Middle Eastern dance and music within me. My father's family is from Aleppo, Syria. My mother's family is of European descent. I've been dancing since I was in my mother's womb and it continues to be a necessity in my life. My parents instilled in me, and all their children, a passion for the arts. My sister, Adelaide, is co-founder of the internationally known belly dance troupe The Shimmy Sisters and an artist. My brother, Marco (of Ninja Nation) is a  film maker, musician, & and Artist.  I am an artist and professional dancer. Dance is not something I just do, it is who I am. It is not a hobby for me, it is me. Through dancing I express my natural excitement for life. I perform and teach for private and corporate events nationally and internationally."  - Leilainia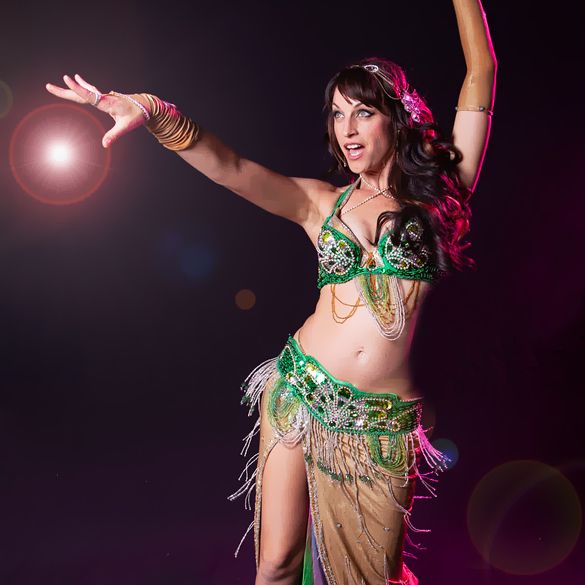 More About Leilainia
"Born into the world of art and dance, constantly surrounded by philosophers, artists, performances, writers, and people of inspiration and passion. They taught me rhythm and dance, musicality and showmanship. They taught me not in a class setting, but in a life setting. I learned through watching, playing and appreciating. It was a wonderful fantasy land of preparation, performance and creation."- Leilainia.
Leilainia was raised engulfing the spirit of music, dance and art. Her dance style invokes a gypsy creative power. Her unique blend of belly dance fuses all styles of Middle-Eastern dance and stage theatrics to entertain and bring out the essential elements what the moment calls for.  She is known for her extemporaneous performances, which include isis wings, veils, snake charming, fire, and sword. This, combined with her acting training, gives her a theatrical romance, which captures audiences of all ages. She is graceful, elegant, and makes the music become an extension of herself while executing beautiful presentation.  
Leilainia co-owns and operates Nomad Artz Entertainment and the world renowned dance troupe "The Shimmy Sisters". She has been a finalist in San Diego Magazine's Women Of The Year,  has performed in theatrical, film and television productions, released an internationally-sold fitness/dance DVD, has appeared on NBC's America's Got Talent and BRAVOs Real Housewives of Beverly Hills, managed an art gallery, has been an entertainment writer for various magazines and newspapers including the Reader, Beach & Bay Press, and  No Cover Magazine, and worked on projects with NPR.
RESUME
Leilainia  (LAY_LANE_YA) : • CHOPRA Health & Meditation Guide • Hatha Yoga,  Kundalini & Belly Dance Instructor •  Entertainment Specialist  •  Entertainer : Belly Dancer, Mermaid, Fire Dancer, Snake Charmer & Trumpeter. 
• 2021 Chopra Health Certification with the Chopra Foundation. 
•2019-present  Dancer/ Trumpeter in Tormenta Rey: a twentieth-century vaudeville, avant-garde cabaret. 

• 2108 KUNDA certified with Maya Fiennes  
• 2017 created Kinetic Kundalini. Kinetic Kundalini is a physical and spiritual fitness discipline which gives you tools for mastering your life. 
• 2017 The Yoga For Real Life Kundalini certified with Maya Fiennes  
• 2010  Instructional Belly Dance DVD released by Acacia. Titled "Step by Step Belly Dance" sold internationally on Amazon, Best Buy and Barnes and Nobles. 
• 2010 - present  Mermaid 
• 2010  Appeared and Passed to Round Two on AMERICA'S GOT TALENT ON NBC.  
• 2009 Nomination San Diego Music Awards (Danyavaad and the Shimmy Sisters Best World Band & Best World Album "March of the Gypsies") 
• 2008- present Certified Yoga Instructor  
• 2007 The Shimmy Sisters are featured in the new Performance DVD "The Exotic Art Of Bellydance!" 
• 2007 People's Choice Bellydancer of the Universe Troupe 
• 2006  Award Winning Ultimate Troupe Hips Of Fury 
•  2005- present Troupe co-founder of The Shimmy Sisters 
• 2002- present Belly Dance Instructor  
• 2002 - present Write stage shows, create costuming, lead theatrical direction for Nomad Artz. 
• 1995 - present Dancer / Performer   
• 1994 - present Fitness Instructor  
I look forward to celebrating with you soon.